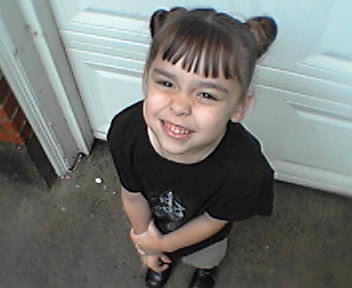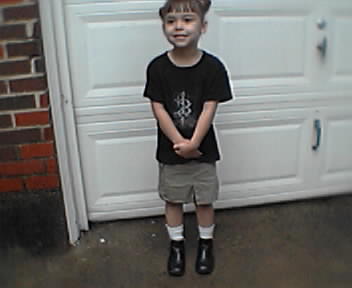 Army green mini skirt, black padded leather boots with silver zippers, and a skinny puppy shirt from the greater wrong of the right tour.
The coolest 4 yr old ever. Btw her favorite song on the new cd is track #4 - EmpTe. She even sat in the back seat of the car the other day and made a little check list to mark off each song, so she knew we listened to all the songs.
The lists she makes are so funny. If we don't let her do something she wants or if she has to go do something she doesn't wanna do, she will draw a picture to repesent whatever, (like not letting her play with balloons in the car, or making her go to the grochery store) then she'll say "not letting me play balloons... Check!" and writes a check mark off to the side of the infraction. Hahah! She is like a little nazi about that kinda stuff.