Hiptop Nation presents:
Hiptop Halloween Hunt II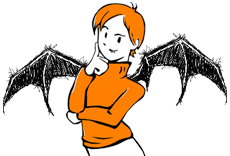 Another Photo-Scavenger Hunt For the hiptop Masses

Who is running this scavenger hunt? Who may participate?
This is the second annual scavenger hunt organized by hiptop Nation. Anyone with a hiptop device (T-Mobile Sidekick, SunCom HipTop, Fido Hiptop, etc.) and a hiptop camera may participate.

What is a photo-scavenger hunt?
Well, we had one last year. As with a traditional scavenger hunt, you will be required to hunt down certain items. Unlike a traditional scavenger hunt, instead of actually taking the item you simply capture a picture of the item with your hiptop camera. This increases the variety of items on a list, while decreasing the chance of a situation where someone gets arrested or injured.

Please note that while last year's hunt can serve as a general guide to what a photo scavenger hunt is like, it should not be assumed that this year's hunt will be exactly the same. In fact, we will be adding some twists and turns to make it signifcantly different.

Where does it happen?
All across the United States and Canada - wherever there are people with a hiptop. If someone has an experimental hiptop working outside of North America, they are welcome to play as well ;)

When does it take place?
The hunt begins on Halloween, Friday, 31 October, 12:01am EST, and ends at midnight EST.

How do I sign up?
To play, you will need a hiptop device, a camera for the hiptop and connectivity on 31 October, 2003 (Eastern Standard Time).

Simply send an email to hunt@bedope.com. You will receive furthur instructions about a week before the game begins. If you sign up but then find out you can not participate, please let us know.

Sign up by October 22 to secure your place on a team.

Why should I play?
Primarily, for fun! And of course, bragging rights. I'm also working on lining up some prizes for those who want something more tangible. Last year we gave away a Danger messenger bag, Danger tshirts and hiptop cases.

Anything else?
That's all for now. Stay tuned this page and hiptop Nation for updates.