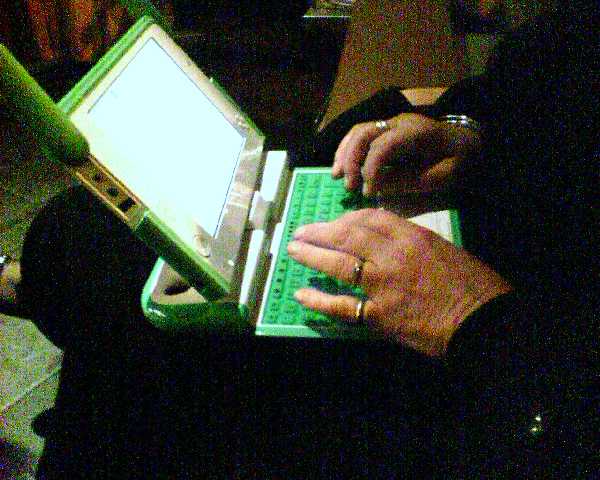 It turned out to be a perfect end to my work day when I walked from my office across the snowy street to Starbucks to test out the new bug fixes in the
XO
laptop for accessing T-mobile WiFi Hotspots. This is significant because when you spend $399 to
donate
the XO laptop to a child in a developing country, you get a laptop to keep AND T-mobile throws in a year's worth of WiFi access. That's a $349 value. Plus you write off $200 on your taxes.
I got the laptop surfing the web on a $9.95 daypass (I don't have my production laptop yet). As is usually the case when I pull out the green and white laptop, people came by to ask about it. Some Starbucks district managers were there for a staff party, and they said they had seen the 60 Minutes story. They would have loved to have done some kind of Starbucks co-promotion. I suggested they give a free cup of coffee to anyone who comes in with an XO to use the WiFi. I was given a free cup of coffee.
Then, some staff gathered to sing Xmas carols. A lady named Barbara sat down next to me to gush about the laptop and all the philanthropic projects that could be designed around it. Being an energetic 60, she said she would love to have a version with a bigger keyboard for older people. I told her I'd work on that. I'm also pretty sure I sold a couple more laptops.
Some more pix are on
Flickr
.
- mike lee - washington, dc