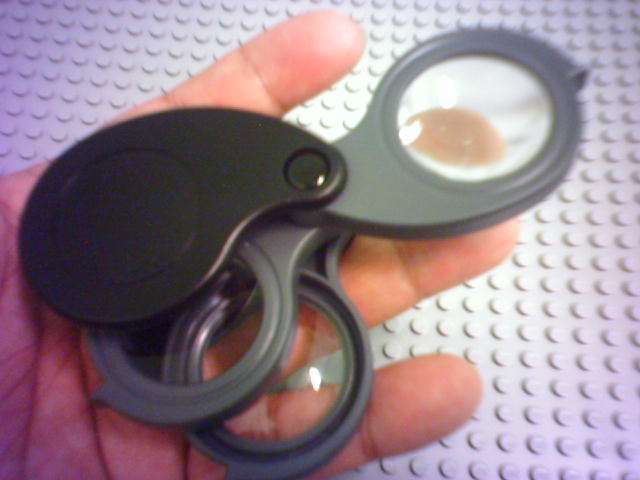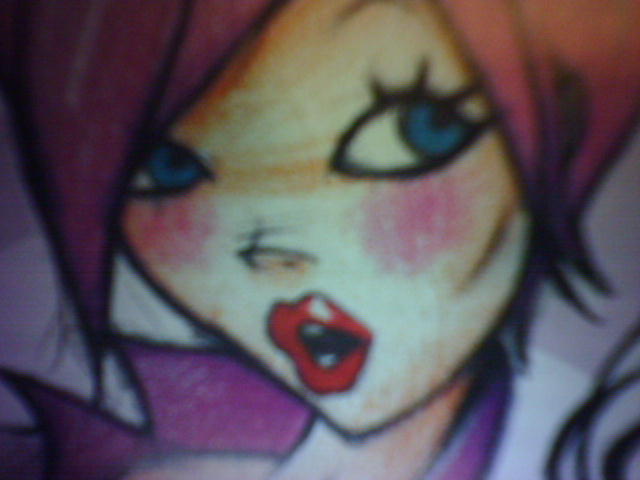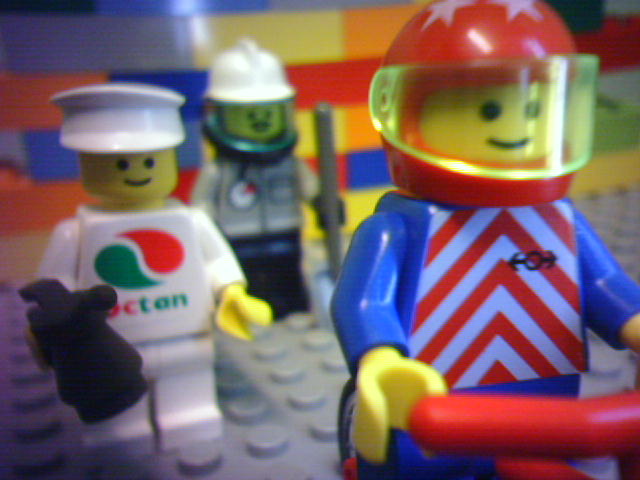 For a while now, I've been
experimenting
with using a high quality 15x magifier loupe to make macro shots with the Sidekick camera. I've focused on a
variety of objects
including
PixelBlocks
,
LEGO bricks
and
condensation
inside a plastic water bottle.
The loupe, which has worked very well, is constructed with coated glass optics encased in a steel cylinder, making the cost high at $30 (or more). Also, the diameter of the eyepiece is only 21mm, so it's somewhat tricky to position in front of the Sidekick camera lens. Interestingly, the commercially available phonecam
auxilliary lenses
are even smaller in diameter and I can't imagine any normal person fiddling with them while on the move.
I recently stumbled onto a new Radio Shack
3-Lens Magnifier
(Cat. #63-1311, photo 1), which only costs $7.99 and is more useful than the $30 loupe. The Shack's magnifier has three lenses that in combination offer 5x, 10x or 15x magnification. Using a single lens (2) does 5x on an area a little smaller than the size of the Sidekick's LCD screen. Two lenses gives 10x (3) and all three gives 15x. The 30mm diameter lenses are more easily positioned over Sidekick lens aperture (4). And it's not necessary to keep the lens perfectly centered.
The two no-lens/with-lens examples here show macro shots made with the single 5x lens, which most interests me. Jackson's face from $20 bill (5 & 6) shows how lineart detail looks. The illustration by
Fafi
from the book
Vinyl Will Kill
(7 & 8) represents halftone printing of a color pencil drawing.
These two examples show how, with a simple flip of the magnifier lens, you can get much clearer shots of ephemera such as concert tickets, product labels, small LCD screens on electronic gadgets, a significant other's nose or anything else that fits in roughly a 1 1/2 x 2" area.
But what excites me most about the 5x lens is what it can do with oblique views of small objects. Unlike the 15x magnification of these loupes where you have to be right on top of a small object (making lighting difficult), the 5x lets you back off to about 1" away so you can allow light onto your object and show some out-of-focus background for visual interest.
Here's an example of tiny LEGO
community worker
figures (9) showing dramatically shallow depth of field that is not possible in any fixed focus phonecams. Think of the possibilities...
If you are going to try this magnifier yourself (an $8 gamble at any of 6000+ stores!), remember that the same general rules of phonecam photography apply: keep your lenses clean, hold the camera steady through the action of carefully pressing the shutter button and wait 5-15 seconds (if possible) for the Sidekick camera app to stabilize to proper exposure and color balance before clicking.
Next, I'll try the new lens on my wife's Nokia since it should work with virtually any phonecam.
- mike lee - baltimore, md